If you are thinking of having a party soon, we give you some ideas so that you do not neglect any detail in terms of decoration. Decorate your party glasses to amaze your guests.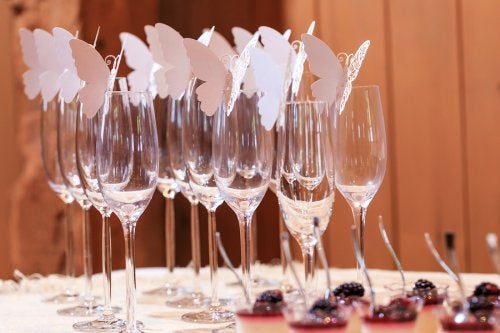 In matters of decoration there are no rules, but the free use of creativity and common sense. Each item can be used and decorated, according to the best convenience; yes, always with the corresponding materials. And it is precisely for this reason that you may have considered the best way to decorate glasses for a special event.
Glasses are objects that can be easily modified. They admit a great variety of techniques and details, so they can help to get original pieces, capable of making the decorative style of a party more special.
Here we tell you how you can transform and decorate glasses so that everyone is amazed and takes a good memory of your creativity and ingenuity.
How to decorate glasses in an original way?
Depending on the material with which the glass is made, glass, ceramic, porcelain, plastic, etc., we can apply some materials or others. However, there are materials, such as acrylic paints, that are used to decorate different surfaces: cardboard, wood, porcelain.
1. With balloons
In an informal event, such as a meeting of friends or a children's birthday, you can take advantage of the remaining balloons(that were not inflated) to decorate glasses. The idea is very simple: cut the balloons in half and place them in the glasses from the base, as if it were a cover.
2. With acrylic paint
If the glasses are made of hard and resistant plastic, you can choose to paint them to your liking and give them the personal touch you want. Nothing like finishing off the painting with a border made with a silver or gold permanent marker.
On the other hand, you can paint the letters of the alphabet on the glasses with permanent markers.
3. With decorative ribbons
This idea is very easy to apply. You can line the cups with colored ribbons, whether they are made of paper, cardboard, or fabric. Make the combinations that you like and put a few dots of silicone to keep everything well attached.
Try to have all the glasses have the tape in the same place so that it is much more uniform. You can play with colors and create fun shapes with the background colors of the glasses.
4. With chalkboard paint
Chalkboard paint is great for decorating a variety of objects, not just walls, which is why it has become very fashionable for a few years. It can also be used to paint wood, plastic, glass, earthenware or cement.
The ideal is to buy a pot of this paint and always have it at home. Paint a large enough stripe around the glass. Wait for it to dry and once it is dry, you can paint the names of the guests with colored chalk or make any shape of your choice.
5. With nail polish
Surely you have nail polish that you no longer want to use, or that the brush is already damaged and you cannot paint your nails well. The nail polishes are very striking and beautiful colors that will make your glasses stand out above the rest.
You can paint different shapes, be it circles, squares or stripes. Let your imagination fly and you will surely get some very original glasses.
Like chalkboard paint, you can not only paint the plastic cups for your party, you can also apply it in pots to decorate your garden.
6. With stickers
There are very nice and worked stickers in case you don't want to paint your own glasses. It is true that there are people who are not very good at crafts and prefer to buy ready-made decorative elements.
This is the case of stickers, they are easy to get, cheap and very easy to place. With them, you will get some glasses typical of an artist with the least effort.
7. With various beads
If you have colored stones, pearls, colored beads or tree twigs, you can glue them with a little silicone on your glasses, in a thousand and one different ways. Be careful, never inside and preferably, not on the edge, where it is drunk.
Remember
Decorating glasses for an event can be a very entertaining activity. You just have to remember the type of material you are going to work with(cardboard, plastic, glass, ceramic, etc.) to choose the best tools. On the other hand, you have to keep in mind what you want to achieve in order to obtain good results.