A stylistic resource of great boom in interior decoration is the neutral tone. This allows you to bring more light to the house and play with other more vibrant colors. Take note of some tips!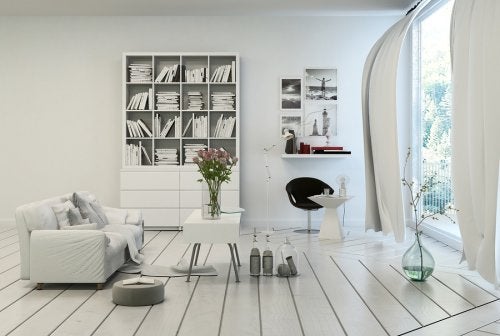 Our house is the refuge where we spend the most time. Making it a harmonious and balanced space can be a simple and economical task, if we follow these practical tips. In this case, we show you how you can decorate your home with neutral tones.
Using a palette of neutral tones to decorate the house is a safe bet. This option never goes out of style and is very versatile to combine with any style of furniture. Discover the secrets of the neutral tones most used in interior design: white, gray and beige.
How to decorate your home with neutral tones
What is a neutral color?
Neutral colors have the particularity of being able to combine with the rest of the colors. This is why they are so useful and timeless. Neutral colors do not create visual stridency and do not compete in highlighting with other colors. We could say that they are basic colors on which the entire color palette or range is well received.
The most used neutral colors in any type of project among decorators are beige, white(with all its nuances, sand white, off-white…) or gray. Also, some variants of black or blue.
These pastel shades help to integrate any texture or furniture in one place. These neutral colors can be used in cold or warm shades, even the mixture of both can be a very good choice.
Luminosity
Any home that is lit with plenty of natural light is itself a success. In addition, lighting, whether natural or artificial, makes the difference between any environment and another magical.
It is obvious that the light bounces and bathes all objects and furniture, including the walls. For this reason, it is convenient to use neutral tones that soften and give harmony to the space.
Therefore, always try to choose warm light bulbs for environments where relaxation and tranquility are required. In addition, neutral colors help to recreate rooms, as they absorb the light that is projected on them.
The contrast of tones to decorate your home with neutral tones
A widely used resource in decoration are color contrasts. For this stylistic technique, neutral colors are the ideal help, since riskier or strident pieces can be placed on them that want to be highlighted.
Any type of furniture or work of art has a place on a wall painted in neutral tones. Let us recall, as an example, the exhibition halls of art museums, where works of sculpture and painting from such varied periods of history are displayed.
The choice of complementary color
If we are having a hard time deciding on one color or another, we can resort to chromotherapy. That is, the properties of each color on our health and our state of mind. Knowing these benefits can help us make the decision.
Neutral colors do not stand out in color therapy. Rather, we will search among the strongest colors to give the room personality and stand out from the neutrality:
Yellow: Improves concentration.
Orange: Color that enhances creativity and gives warmth.
Red: Stimulating, it must be used with caution, rather in details or small walls.
Rosa: Stimulates the senses.
Violet: The color of spirituality.
Blue: Helps us relax.
Green: Very balanced color.
Decorative accessories on neutral tones
Finally, when decorating a wall, you can mix different techniques or materials on the neutral tones that we have chosen. For example, we can dare to use vinyl.
Vinyl is the ideal complement to personalize and project your home style on a wall. Furthermore, they are not only relegated to childish motifs in children's rooms, but there are endless possibilities.
Wallpaper is another option to highlight some areas of the house or loose walls of the same room. For this reason, we once again see the importance of using neutral colors that allow us to expand the decorative possibilities without fanfare.
Now you know a little more about soft colors and the benefits of using them in your home. Decorating your home with neutral tones opens up a lot of options for you to play with accessories, furniture, lighting, and some specific walls.