If you have an urban terrace, be sure to take advantage of it with a beautiful decoration that allows you to make it look like a photograph. Find out more below.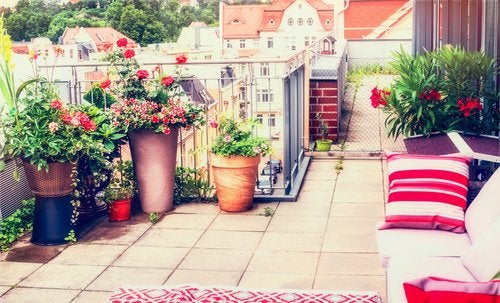 An urban terrace not only allows you to look out, without a window or a fence in between, it offers us the feeling that we are away from home, but clearly with some comforts up our sleeve. Therefore, having a terrace today is something that is highly valued.
Whether we want to take advantage of it as a space to share or as a relaxation area, the truth is that this space always comes in handy to disconnect from the routine and clear the mind. In addition, it allows you to sunbathe and enjoy the fresh air.
Here are some of the best ideas that can help you organize and make the most of your terrace.
How to take advantage of an urban terrace?
The first thing to do when "designing" the urban terrace is to decide what we want it for. Do we want it to hold meetings or just to sunbathe alone? Do we want to receive visitors or not? What is the time of day when we would most like to spend time there?
Once we have clarified what we want the terrace for, we can start thinking about how to take advantage of it.
There are those who have their terrace to enjoy specific hobbies such as reading, music, miniature gardening, yoga, meditation or simply to look around and enjoy a good drink. On the other hand, there are others that have the space to organize meetings and intimate celebrations between friends and family. Colors for tastes!
How to organize an urban terrace for individual enjoyment?
If you have decided that the terrace will be for your personal enjoyment, do not hesitate and organize it according to your preferences and the hobbies that you consider that you are going to do there! Make the space cozy and comfortable for you.
Set up a small folding coffee table. In this way you will not limit yourself in advance to using the terrace in different ways.
The chair you are going to place must be very comfortable. So, don't hesitate to add cushions and a soft blanket to make it extra cozy.
Avoid placing indoor rugs, because these are usually made of a material that is not very resistant to the elements. Also, they tend to get dirty very easily. Instead, select rugged fiber rugs that are slip resistant and reversible. The most suitable are those that simulate artificial grass and rope rugs.
Bohemian decoration is one of the styles that most favors an individualistic urban terrace. Its colors, designs and finishes make, with few elements, the place look very well decorated. With this style, you won't have the "empty" feeling.
The lighting must also be adapted to the activity that you are going to do most on the terrace. If we are going to dedicate it to reading, it is best to add an auxiliary lamp. On the other hand, if you are not going to do any activity that involves fixing your eyes too much, it is best to put soft and relaxing lights.
Make sure the lamps are original and beautiful. Remember that, by not adding many elements, it is necessary that the few that are present are pleasing to the eye.
If you want, you can add some translucent curtains to have some privacy.
You can put a small trunk(type "for outdoor storage") to place your book, your yoga mat or whatever you need to protect from the elements.
How to organize an urban terrace to share?
Place a chair and drop-down tables, so you can adapt the space to the type of meeting you have organized.
If there is room, add a couple of bean bags or a small sofa.
You can also decorate the terrace as if it were a living room. For this, you can put a coffee table, a sofa and a couple of chairs.
The Moroccan style is a good option because it allows you to do without sofas and use other types of accessories and textiles to ensure comfort. This style is very colorful and cheerful, so it will be very attractive to you.
In general, on urban terraces the lighting is dim and with a tendency to festivity.
You can create a zone of games to pass the time in the company of a dynamic and enjoyable way. A good idea might be to improvise a miniature golf or set up a board to write funny messages.
An urban terrace to share can include a barbecue. In this way, you will already have an excuse to prepare a special meal and share it with whoever you want.
Don't forget to add a touch of green!
Although it is not mandatory to have a mini garden or an orchard on the terrace, it is advisable to add some plants to give a much more natural, cheerful and welcoming touch to the environment.
After all, plants bring color and a certain "freshness". And yes, both a pot with succulents and a pot with flowers on the table will make the big difference between a cozy urban terrace and an unused urban terrace.
And if you are definitely not plants, nothing happens. You can always put candles or colored lights, hang a nice tapestry that you like, origami pieces and many other accessories that will give personality to your space.