To renew the walls of your house you do not need to make large investments. Today we have on hand a series of materials that allow you to change it quickly, cheaply and without complications.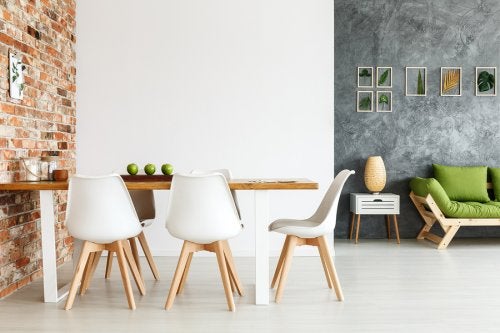 To renew the walls of your home you do not need to modify the structure, much less spend large sums of money. While it is true that there are very attractive expensive designs, there are also some low-cost alternatives that allow us to change them so that the spaces look different and improved. Are you interested?
You don't really need to get too complicated to get the walls to give a fresh air to the whole house. In fact, a paint change and a few decorative items may be sufficient. So, if you still don't know how to do it, we invite you to discover 5 original ideas that you may like.
How to renovate the walls of your home: 5 simple and original ideas
When it comes to renovating the walls of your home, you just need a lot of creativity. Although we have the idea of ​​making big investments in expensive materials, there are actually simple and inexpensive ways to give them a change. Do you dare to apply it at home?
1. Wall in wooden boards
Lovers of rustic style really like this idea to renovate the walls. It is a very beautiful option that allows you to highlight almost any space in the house. What does it consist of? Well, simply by incorporating wooden boards into one or more walls. The wood can cover the entire surface, or just some parts.
In addition, we can give them different finishes, according to our preferences. Thus, we can opt for an aged finish or leave the wood natural. On the other hand, if we opt for something more elegant, we can sand and varnish it.
In addition, we can add other accessories to the final result, such as colored paints or plants. This last option is one of the most popular, especially when the modified wall is in the patio, terrace or kitchen.
2. Composition of tables
To renew the empty walls, you do not need to change the material or the paint. You can even give it more life with few materials. A good option is to make a nice composition with pictures of different sizes or shapes.
The pictures can be of an artistic nature, or of family photographs. In fact, if you prefer, you can replace them with watches, antique plates and other vintage– style items. The most important thing is that you look for a good contrast between colors, designs and materials.
3. Vinyl's and wallpaper
The use of vinyl and wallpaper to renew the walls is still a trend. The options have been expanded and designs are available to suit all tastes. However, it is important to take into account the style you want to achieve and what you want to convey.
Although there are true works of art embodied in this material, its application must take into account other details of the decoration of the house: furniture, color of the walls, accessories, etc. This is because its design should make a good contrast with everything else.
If you want to dare more, do not hesitate to incorporate a wallpaper in the main living room or on one of the walls of your room. If you want something minimal, use a vinyl on only one part of the wall. There are them in details such as:
flowers
Landscapes
Mosaic effect
Graces
4. Wall with cork
Do you want an idea to decorate the walls and, incidentally, recycle? So, don't stop putting this simple option into practice. It is ideal for renovating the empty walls of study rooms or offices.
You just have to gather as many corks as possible. Then, you are going to incorporate them from the ceiling to the base of the wall. There you can place photographs, posters or any other element that you can think of.
5. Wall murals
With characteristics similar to wallpaper and vinyl, wall murals continue to attract attention when it comes to renovating the walls and spaces of the home. Due to their various designs, they are perfect to give more life to the main living room, office or children's rooms.
They consist of large printed photographic reproductions that, on a large scale, give the home an urban, natural or fantasy style. They are inexpensive, easy to install, and in fact some are made of materials that can be easily washed and cleaned. Find them with prints of:
Natural landscapes
Big cities
Cartoon
Animals
Musical and artistic
Do you dare to renovate the walls with these fabulous ideas? As you can see, you don't have to make large investments. The most important thing is that you try to make good choices according to the style you are looking to reflect.