The dining room table is one of the most important pieces of furniture in our house. Pay attention to these wonderful ideas that we offer you to make it look more and in a simple and original way.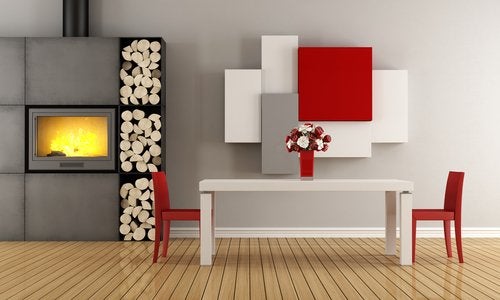 The dining room table is one of the most important pieces of the home and surely occupies a privileged space in the house.
It is one of the most decorative elements; However, if we do not know how to take advantage of it or if we always use it to leave our things on top.
This way it will never look enough, which will make our living room lose its appearance.
There are many options you have to decorate and keep your dining room table ornate. With small gestures you can give a personal touch of life to your dining room and color to your living room.
Practical ideas for decorating the table
To start, you can place a glass jar in the center. In addition, you can add flowers inside, whether they are live plants or plastic. In any case they will give you a touch of color and joy.
You can also get a glass jar and turn it into a terrarium. These are usually made with indoor plants that do not need much care.
Remember that you can create your own combination of pots and plant different types of herbs or flowers to provide different nuances.
In the same way you can make a fruity centerpiece. For this you only need a large bowl and add fresh or plastic fruits. This will give it a natural and cozy touch.
You can also place a low tray and a few candles, stones or balls of ornaments on top.
The important thing is to always seek the aesthetics and harmony of the objects.
If your table is large, you can opt for an elongated tray and place vases on it to cover and fill the space more.
Also, if the dimensions allow it, you can create a set of jars, glass containers or vases that contain stones, sand or flowers inside.
And, of course, remember to play with symmetry: it is one of the best ways to find the most modern side to our dining room.
Another idea is that you look for fish tanks and fill them with sand or tree branches to make your own terrarium.
In any case, the fish tanks are beautiful in themselves, so you can take advantage of them by tinting the water and introducing certain decorative motifs in the background.
If you live near the countryside, don't hesitate to collect tree twigs on your next visit. You can paint them gold or silver and place them on the dining table.
If you like indirect lighting, you can take advantage of the surface of your dining room table to place candles of different sizes and obtain several points of light.
On the other hand, you can give it a vintage and retro touch if you find a great chandelier; This will give the candles more presence.
And if you like animals, you can place a sculpture of an animal in the center. For example, a tiger or an elephant.
Of course, we advise not to saturate the table with too many components, since in case we have to use it daily it would end up getting tired.
N or no written standards for decorating a table. 
We hope the ideas we have proposed have served you! Now it is your turn to put them into practice.